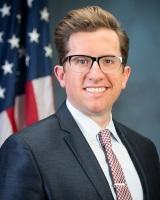 Stephen M. Begg was appointed Deputy Inspector General for the U.S. Department of Housing and Urban Development (HUD) in July 2020.  As Deputy Inspector General for the Office of Inspector General (OIG), he oversees the operations of a nationwide organization of auditors, investigators, evaluators, counsel, and support staff.
In his previous role, Mr. Begg was the OIG Chief of Staff, where he coordinated and supported the operational efforts of each OIG component to execute the Inspector General's strategic vision in carrying out HUD OIG's oversight responsibilities.
Mr. Begg joined HUD OIG in 2014 as an attorney-advisor in HUD OIG's Office of Legal Counsel.  He later served as the Acting Deputy Assistant Inspector General for the Office of Special Inquiry, where he managed attorneys, criminal investigators, and forensic auditors responsible for conducting sensitive investigations into allegations of senior official misconduct and enterprise-level fraud, waste, and abuse in HUD programs.  
Before joining HUD OIG, Mr. Begg was an attorney with the U.S. Postal Service (USPS) OIG's Office of General Counsel.  During that time, he was appointed as a Special Assistant United States Attorney in the Middle District of Tennessee to support a multiagency, complex criminal investigation.  He also served as a paralegal and analyst in USPS OIG's Office of General Counsel while attending law school.  He began his career with USPS OIG as a technical operations officer in the Office of Investigations.
Mr. Begg received a Juris Doctor degree from The Catholic University of America, Columbus School of Law, and a bachelor's degree in public administration from James Madison University.