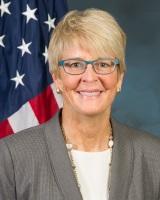 Kathryn Saylor became the Deputy Assistant Inspector General for Office of Evaluation in December 2016. She oversees the Integrated Data Analytics Division (iDAD), Field Analytic Support (FAS) and the Information Technology Evaluation Division (iTED). iDAD enables the OIG to remain vigilant of emerging or continuing threats by using data science to create actionable information for strategic and tactical decision making. FAS leads data analytic support for HUD OIG and assists in developing data analyses skills and provides guidance for accessing program data. iTED conducts independent evaluations and makes recommendation for strengthening HUD's information technology and cybersecurity operations, policies, and programs.
Before her appointment as the DAIG for Evaluations, Ms. Saylor served as the Assistant Inspector General for Evaluations and the Director of the Information Technology Evaluations Division at HUD OIG.
Ms. Saylor came to HUD after working more than 8 years for the U.S. Department of the Interior OIG, where she led the FISMA evaluations, conducted audits, and performed OIG oversight of the agency's IT, IT Security and Privacy Programs. In addition to her time in the Inspector General community, her 21-year Federal career includes various audit positions with the U.S. Government Accountability Office, Internal Revenue Service, and U.S. Air Force Accounting and Finance Center. Additionally, Ms. Saylor served as the Managing Director of Falcon Lease Finance Corporation, managing aircraft leasing transactions, and spent several years in public accounting.
She holds a Master of Science in Management degree with Information Security Management emphasis from Colorado Technical University in Denver, CO. She received her Bachelor of Arts degree in Accounting from Fort Lewis College in Durango, CO. Ms. Saylor is a certified Project Management Professional and holds IT and security credentials, including Certified Information Systems Security Professional, Certified Information Systems Auditor and Certified in Risk and Information Systems Control.
Ms. Saylor is a native of Denver, CO. She is widowed and has four daughters, a son, three son-in-laws, and eight grandchildren.