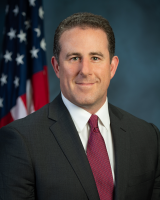 Mr. Brian Nysenbaum was appointed Acting Assistant Inspector General for Office of Special Inquiry in January 2019.  He is responsible for the oversight of the HUD Office of Inspector General's (OIG) Office of Special Inquiry (OSI), which conducts sensitive investigations regarding waste, fraud, and abuse in HUD programs and the conduct of its employees.
Before assuming his role as Acting Assistant Inspector General, Mr. Nysenbaum served as Senior Investigative Counsel in OSI.  He previously served as the Director of Special Investigations for the U.S. Department of Commerce OIG.  In that capacity, Mr. Nysenbaum led many significant investigations regarding senior official misconduct and complex procurement and grant fraud.  He received the Department of Commerce Gold Medal and other awards for his work on these matters.
Prior to his federal service, Mr. Nysenbaum worked as an attorney in private practice.  As an associate at two prominent law firms, he handled a wide variety of white collar criminal and securities enforcement matters.
Mr. Nysenbaum received a J.D. from the Boston University School of Law, where he graduated magna cum laude and served as an editor of the Boston University Law Review. Mr. Nysenbaum has a bachelor's degree in political science from the University of Wisconsin-Madison.