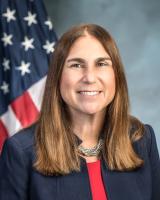 Ms. Fara Damelin was appointed Chief of Staff for the U.S. Department of Housing and Urban Development, Office of Inspector General (HUD OIG) in July 2021.  In this role, she is responsible for leading a team of professionals to support HUD OIG's execution of oversight responsibilities, strategic initiatives, and daily operations. 
Ms. Damelin has more than 25 years of experience in the Federal service, most recently serving as Deputy Inspector General for AmeriCorps between February 2018 and July 2021.  In that role, Ms. Damelin was responsible for moving the Inspector General's vision forward, and formulating, implementing, and evaluating OIG policies, strategies, priorities, and goals.  She supervised five senior oversight executives and managers and oversaw the daily operations of the offices of audit, information technology, investigation, legal and administrative sections. In addition, she served as the statutory Whistleblower Protection Coordinator, handled congressional outreach and media inquiries, led the production of semiannual reports, and actively participated in   various committees, working groups, and cross cutting initiatives sponsored by the Council of Inspectors General on Integrity and Efficiency (CIGIE).
Prior to her tenure with AmeriCorps OIG, Ms. Damelin served for over 14 years with the National Science Foundation (NSF) OIG, initially as an Investigative Attorney, and subsequently as Director, Office of Investigations Legal Division. In that role, she supervised a staff of investigative attorneys and continued to handle complex investigations of fraud, waste, and abuse related to NSF programs and operations, working closely with the Department of Justice on civil and criminal matters.  She was also appointed as a Special Assistant United States Attorney in the District of Maryland and second chaired a two-week criminal grant fraud trial that resulted in felony conviction.  Ms. Damelin was selected to serve as a CIGIE Fellow with the General Services Administration OIG where she focused on strategic internal communications.  She is a Certified Fraud Examiner, a graduate of the Office of Personnel Management Federal Executive Institute's Leadership for a Democratic Society program, and an adjunct instructor for the CIGIE Inspector General Academy.
She began her Federal career by serving for eight years as an employment attorney in the Department of Health and Human Services Office of the General Counsel, representing the agency in discrimination complaints before the Equal Employment Opportunity Commission and adverse action appeals before the Merit Systems Protection Board.  
Ms. Damelin received a Juris Doctor degree from George Washington University Law School in 1994, and a bachelor's degree in Political Science from SUNY Binghamton in 1991.