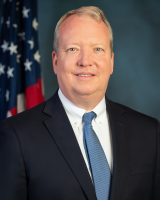 Mr. Chuck Jones is a Senior Advisor for Operations and External Affairs for the U.S. Department of Housing and Urban Development, Office of Inspector General.  In this role, Mr. Jones oversees a portfolio of the organization's critical functions, including communications, congressional affairs, budget and financial management, human capital, information technology, and employee engagement.
Mr. Jones has more than 25 years of experience in leadership positions in the banking and financial services industries, which includes many years in oversight positions in the Inspector General community and on congressional committees.  He most recently served as the Deputy Chief of Staff with the Special Inspector General for the Troubled Asset Relief Program (SIGTARP).  Before his tenure with SIGTARP, Mr. Jones spent several years in the private sector, focusing on congressional and governmental relations.
Additionally, Mr. Jones has held multiple staff positions on congressional committees and worked for Senator Thomas Carper as the Staff Director on the Subcommittee on Economic Policy for the Committee on Banking, Housing, and Urban Affairs.  Mr. Jones has held several positions in the executive branch, working for the U.S. Department of Agriculture and the Federal Housing Finance Board.  Mr. Jones also served in the White House in the Office of Presidential Personnel and as a White House Liaison to the State Department.
Mr. Jones holds a Master of Arts degree from The Catholic University of America and a Bachelor of Arts degree from Henderson State University.