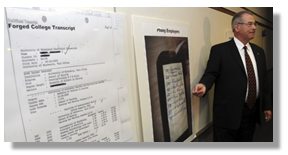 On June 22, 2011, the principal operators of Mortgage Planners, Inc., Hudson, Wisconsin, were charged with one count of Racketeering by the State of Minnesota for their role in the fraudulent origination of 65 FHA insured loans.
On that date, Hennepin County Attorney, Michael Freeman, stated, "Unfortunately, we think that this could be the second wave of criminal activity resulting from the housing crisis."  "First we had the criminals who committed frauds in the middle part of the decade that contributed to many homeowners losing their homes through foreclosure.  Now we have a scam that specifically targets properties that went into foreclosure.  But we stand ready to prosecute white collar criminals who are taking money from private business and the taxpayers."
Mortgage Planners focused on properties that were already in foreclosure due to the implosion of the nationwide housing bubble.   The loans brokered through Mortgage Planners were insured through the FHA  rather than through the use of a conventional loan product.  In this scheme, the distressed borrowers had their losses compounded because they became a double victim. The borrowers not only lost their homes to foreclosure but they lost any equity remaining in the homes to Mortgage Planners when the properties were subsequently sold to "straw" buyers through Mortgage Planners' fraudulent origination tactics.  
In order to obtain FHA approval for their company's loans, Mortgage Planners found "straw" buyers who had no intention of actually occupying the FHA insured home.  Instead, Mortgage Planners provided their applicants with fake job histories, fraudulent college transcripts, and forged judges' signatures on phony divorces to insure their final loan approval.  Some of the properties were used as rental units, again through Mortgage Planners, which was illegal according to the terms of the FHA mortgages, which required owner occupancy.
Ultimately, the principal operators of Mortgage Planners  plead guil
ty and were sentenced in September 2012 to 120 months incarceration, a $50,000 fine, and $500,000 in restitution to the previous buyers whose equity was stolen.  
The Judge described their intricate scheme as "extensive and insidious," further stating, "It's clear that *names redacted* are not the victims.  They do not erase the footprints that have been laid down by a person's conduct."
Assistant Hennepin County Attorney Thomas Sinas stated, "No other fraud racketeering case has involved such systematic criminal activity in one organization. In this world of fraud, nothing was off-limits."
As of April 2013, HUD/FHA has lost $2.3 million following the foreclosure and eventual claims that were paid as a result of these frauds.

Photo of Hennepin County Attorney Michael Freeman
and Minnesota Department of Commerce Commissioner
Mike Rothman. Photo credit Nicole Garrison Sprenger.
References
Sentencing: http://www.twincities.com/business/ci_21537727/hudson-wis-couple-gets-prison-mortgage-fraud-scheme
Charging article: http://www.startribune.com/business/124359354.html?refer=y
Charging video: http://minnesota.cbslocal.com/2011/06/22/prosecutors-to-announce-mortgage-fraud-charges/