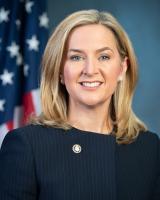 Ms. Rae Oliver Davis was sworn in as Inspector General for the U.S. Department of Housing and Urban Development (HUD) on January 23, 2019.  As Inspector General, Ms. Oliver Davis is the senior official responsible for audits, evaluations, investigations, and oversight of HUD's programs and operations to promote the integrity, economy, efficiency, and effectiveness of these programs.  The HUD Office of Inspector General (OIG) is one of the original 12 Inspectors General (IG) authorized under the IG Act of 1978.
Since April 2020, Ms. Oliver Davis has served on the Pandemic Response Accountability Committee, a committee of 22 Federal Inspectors General created by Congress to oversee more than $5 trillion in Federal pandemic-related emergency spending.  Ms. Oliver Davis also serves as Chair of the Professional Development Committee for the Council of the Inspectors General on Integrity and Efficiency (CIGIE), an organization comprised of all 75 Federal Inspectors General.
Prior to her position as IG, Ms. Oliver Davis was appointed as Acting Assistant Inspector General in February 2017. In that role, she was responsible for the oversight of the Office of Special Inquiry (OSI), the investigative office within the OIG that conducts sensitive investigations concerning waste, fraud, and abuse of HUD programs and the conduct of its employees.
Ms. Oliver Davis has served nearly a decade in the IG community.  Prior to joining HUD OIG, she served as chief investigative counsel for the Office of the Special Inspector General for the Troubled Asset Relief Program (SIGTARP)– the independent Federal law enforcement agency under the U.S Department of Treasury that targets financial institution crime.  She also served in the Office of the General Counsel for the Office of the Inspector General for the U.S. Postal Service. 
Ms. Oliver Davis served as Assistant United States Attorney for the Western District of Tennessee from 2002 to 2007 and as Assistant Attorney General for the State of Tennessee from 1999 to 2002.   Earlier in her career, she served on the then, U.S. Senate Governmental Affairs Committee and the U.S. House Government Reform and Oversight Committee.
Ms. Oliver Davis received a J.D. from the University of Memphis, Cecil C. Humphreys School of Law and a bachelor's degree in political science from Murray State University.